Colors new serial Namak Ishq Ka (Namak Issk Ka) is up for new twist in the upcoming story when Iravati kills Thakur and gets the proof from his house.
So far we have seen that Chamcham took help from Banno and performed in Yug's engagement and received money to save her siblings.
Kahani is very much happy that now she will save her siblings Lucky and Rani.
Kahani gives that money to Thakur and request him to release them. But he denies on what he said.
Thakur orders Kahani to get married with him but Lucky and Rani not ready to happen this. Lucky pushes Thakur and unfortunately he gets harm.
Iravati kills Thakur
On the other hand, Thakur called another dancer to dance in his marriage but the girl who came to dance was none other than Iravati.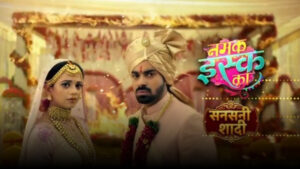 Iravati came here to get proofs that Thakur uses against her and blackmailing her.
She gets the photos when she pushed a car some years ago to kill Yug and his father.
Later on, on escaping she find Thakur in a pool of blood requesting her to save.
But Iravati got a jackpot and she kills Thakur to destroy this last proof.
Now it would be really interesting what will happen with Kahani and whether Yug's father is alive or not?
Stay tuned with us for all the latest gossip and updates of Namak Ishq Ka.