Star Plus most popular serial Yeh Hai Chahatein is gearing up for some intense drama and interesting twists in the upcoming story.
Digvijay drags Prem with him out of the House to surrender him to the Police when Ruhi comes there and stops him.
Ruhi tells him that Prem hasn't stolen the Lord Shree Krishna Idol. Digvijay says that she is just a Kid to which Armaan says that they should throw the Kids out too.
Ruhi stands on her point to which Digvijay asks her who is the Culprit to which she points at Armaan.
As they denies to believe her, she shows them the video of Armaan hiding it. Ruhi then tells them that Rudraksh was just changing the Lord Shree Krishna Idol.
Prem Mali says that he was just replacing it with his as his Lord Shree Krishna Idol is Lucky one. He cares for them, that's why he did it.
He then tells them where the Lord Shree Krishna Idol is and when Kanchan checks it she gets it. He Blesses Ruhi for helping him get out of this situation.
Preesha questions Armaan as to why did he do it. Armaan tells her that Prem is involved with Rudraksh and he wants to get rid of him.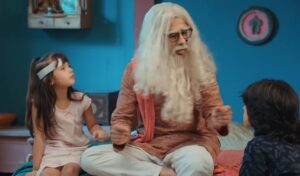 Armaan Apologises to Rudraksh
Preesha tells him that he is wrong for targeting Prem Mali who is an Old and Poor Man. Prem starts to leave but Preesha stops him.
As she asks him to stay Prem tells her that he was insulted here by Armaan hence he can't stay there. Preesha apologises to her.
Prem tells her that she don't have to apologise to which she asks Armaan to apologise. Kanchan too asks him to which Armaan apologises to him.
Prem tells him not to and says that he will stay here. Raj is Happy that Ruhi has handled the situation and leaves from there.
As Preesha starts to do the Puja with Armaan. Her Memories with Rudraksh Plays in front of her eyes and she faints right away.
Armaan tells Digvijay that the Lord Shree Krishna Idol is from Rudraksh and that's the reason she fainted.
Preesha tells Pihu that she saw herself doing Puja with Rudraksh in the Past and she was Happy with him. Armaan and Digvijay hear it.
What more drama is awaiting the audience?
Stay Tuned to Serialupdates.Me..