Star Plus most popular serial Banni Chow Home Delivery is gearing up for some intense drama and interesting twists in the upcoming story.

Charmi and Viraj perform as Banni and Yuvan mocking their Relationship. Banni feels uncomfortable. Everyone in the function starts laughing.

Banni decides that it is enough and is about to stop them but Devraj stops them. He asks them to apologize and they do as asked.

Yuvan panics when Alpana comes to him and asks him why he is in the room. Yuvan tells her that his Mother is angry with him but doesn't know why she is angry.

Alpana tells him that may be it is because of Banni. She tells him that Banni refused to wear Vandana's saree and jewellery.

Yuvan gets furious hearing him and takes them with him where Banni's Muh Dikhai Ceremony is going on.

Yuvan comes to Banni and starts removing her jewellery after removing her pallu. He removes her flowers as well. Everyone thinks that this is inauspicious.

He starts to make her wear the jewellery and hoes hysterical. Devraj asks him to stop but he doesn't. Devraj slaps him.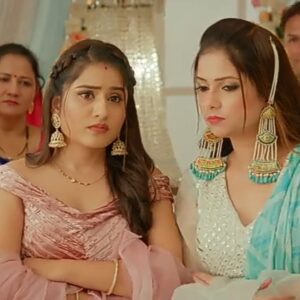 Hemant calms Yuvan Down

Yuvan tells him that his Mother is angry because of her. Devraj says that she is not angry but Yuvan is adamant. Even though Devraj says that it is a tape record still he doesn't belive.

Charmi and Viraj think about how they changed the recorder. Yuvan says that he broke his Mother's promise by Marrying her and tells her that he shouldn't have Married her.

Banni leaves from there and meets Hemant. She requests him to calm down and tells him whatever has happened.

Hemant calms down Yuvan and they both play violin. He tells him that Vandana forgave him now.

Alpana asks what they will do as the plan backfired. Manini says that they will let Yuvan know that Vandana didn't forgive him. She looks at his Childhood album.

Banni makes Alpana wear her googles and asks her to see things from her eyes. She warns everyone that they should respect Yuvan as much as they do to Manini.

What more drama is waiting ahead?

Stay Tuned to Serialupdates.Me..