Star Plus most popular serial Banni Chow Home Delivery is gearing up for some intense drama and interesting twists in the upcoming story.
Vishnu tells Banni that the idea was of Yuvan. Banni gets Happy and tears fall from her Eyes. Devraj tells Charmi that Banni has meaningful Relationships unlike them.
Yuvan sees tears in her eyes and questions her whether the tears are happy tears or sad tears to which she tells him that they are happy tears.
Everyone praise Yuvan for being such a good Husband after he tells Banni that he will bring happy tears into her Eyes everyday.
Manini comes there while Yuvan hides seeing her. She starts to begin Muh Dikhai Rasam and gets to know that they should gift to see the face.
He regrets for seeing her face without gifting her anything and writes a Poem for her. As he reads it for her, everyone yet again say that Banni is lucky to have him as her Husband.
Meanwhile Charmi throws away the saree of Vandana and messes up all of the Jewellery. Devraj gifts bangles to Banni while Manini too gifts her a Jewellery set.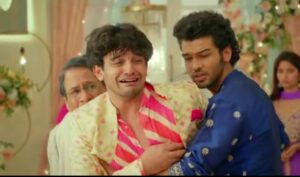 Devraj stops Charmi
Banni asks Hemant whether he won't Bless her to which Manini asks her to be patient. Devraj asks Viraj and Charmi to perform while Banni looks unpleasant.
They starts to perform for them and mock them both during it. Yuvan feels happy.
He sees through the window that the Stars are in the way his Mother told him hence he thinks that his Mother is there and starts to climb the stairs. Manini smirks looking at him.
Devraj sees that Banni is uncomfortable and asks them both to stop their play as Banni is not liking it.
Yuvan sees the messed up Jewellery of his Mother while a voice like Vandana tells him that she is angry with him as he broke her Promise.
Yuvan comes to Banni and forces her to wear the Jewellery. He tells her that he wish he never Married her which brings tears into her eyes.
What more drama is waiting ahead?
Stay Tuned to Serialupdates.Me..