Star Plus's serial Imli is up for the high voltage drama in the upcoming story when Malini's mother and others gives surprise visit to Aditya Tripathi's house.
So far we have seen that Aditya's family members decide that Imli will also continue her studies along with working in the house.
Later everybody is in good mood to celebrate Shiv Purnima festival in the house.
After drinking Bhaang, Imli, Aparna Tripathi, and others dancing, singing, and enjoying at the fullest.
On the other side, Malini's mother plan to visit Aditya's home with her mother-in-law.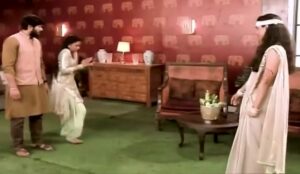 Aditya shocked seeing mess in the house
Malini visit Tripathi house with her entire family where Anu gets shocked seeing all chaos in the house.
Aditya is also shocked seeing his family in such unimaginable situation.
Now it would be really interesting and funny to see how Aditya-Anu will react on it and whether Imli will do anything with Anu or not?
Stay connected with us for all the latest updates and gossip of Imli.