Colors Tv's upcoming serial Namak Ishq Ka is up for the high voltage drama in the storyline where a superstar dancer Chamcham get married to Yug Rajput.
Chamcham (Shruti Sharma) who is Bihar's most famous dancer but she is doing all this to live life.
Chamcham also lives another life named Kahani who wants to get married to a guy.
But society is not ready to accept her as their daughter-in-law.
On the other hand, the male lead of this show Yug Pratap Rajput (Aditya Ojha) who is a businessman that live in a reputed family in Mumbai with her mother Iravati (Antara Biswas – Monalisa).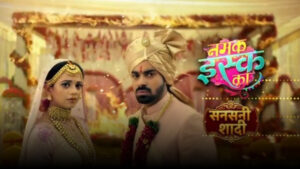 Iravati fumes seeing Yug married to Chamcham
Later on, due to some circumstances Yug Pratap Rajput fills Chamcham's hairline on his marriage day.
Iravati and others gets shocked seeing Yug's this act.
Now it would be really interesting to see whether Iravati will accept Chamcham (Kahani) as her daughter-in-law or not?
Stay tuned with us for all the latest gossip and updates of Namak Issk Ka.