Star Plus's newly started serial Imlie is ready for a new twist in the upcoming story when Aditya Tripathi brings Imli to his house.
So far we have seen that Imli and Aditya forcefully got married in Pagdandiya.
Later, Aditya brings Imli with him to Delhi as forced by Nani and other villagers.
Nani also send a villager behind this newly wed couple to keep watch on them.
Aditya first decides to put Imlie in an NGO for her further studies and she will not have to worry about anything in this new city.
Aditya brings Imlie to Tripathi house
But all his efforts goes in vain when that villager will try to take back Imli to Pagdandiya. Aditya saved her and decide to take her to his home.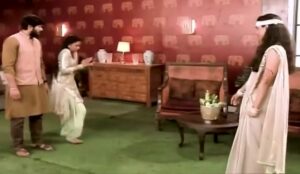 Later, this couple reaches to the house where Aditya introduce Imli as their new maid.
Here Imli will unknowingly performs the grah pravesh rituals being a Aditya's wife.
Now it would be really interesting to see when Malini and the Tripathi's will get to know Imli's real truth that she is Aditya's wife.
Stay connected with us for all the latest gossip and updates of Imli.