Colors TV's popular show Namak Issk Ka is up for high voltage drama in the upcoming story with Kahani-Yug's Grah Pravesh in the house.
So far we have seen that Yug marries Kahani just to save Rupa and Raunak's married life.
But here Iravati do not digest this and shots Kahani but luckily Yug saves her.
Dadi and others requests Yug to forget this marriage and Kahani is a dancer.
Seeing all the circumstances and Raunak's real intention, Yug denies and holds Kahani's hand.
Yug lifts Kahani in his arm and performs the Grah Pravesh.
Iravati burst out in anger
Gunjan and others gets stunned seeing Kahani's grahpravesh as Yug's wife.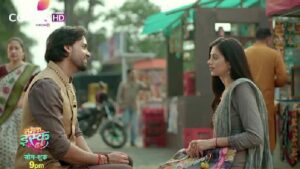 Later on, Yug meets Gunjan to apologies her as he ruined her emotions and dreams to get married to him.
Yug apologies Gunjan where she requests him to fork this marriage and get married to her. But Yug denies.
Iravati gets very angry on what Yug did and plans to sort of this problem in her way.
Now it would be really interesting to see what will be Iravati's next move against Kahani.
Stay connected with us for all the latest gossip and updates of Namak Issk Ka.