Star Plus's popular serial Imli is up for new twist in the upcoming story when Aditya misunderstands Malini and scolds her.
So far we have seen that Anu Chaturvedi requests Malini to come home and bring Imli with her.
Malini and others are not aware of Amy's real intentions but Dev smells that Anu has planned something.
Anu invited her friends for the Kitty party and in that party the her friends humiliates Imli.
Dev fumes in anger and was about to react but at that time Aditya marks entry in the house.
Aditya is very angry and shouts at Anu and Malini as this is the reason behind inviting Imli.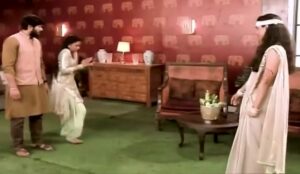 Malini demands explanation over this
Aditya is unaware that Malini has no idea about what her mother's friend did with Imli.
He scolds Malini but later on Imli reveals that she has no idea about all this.
Malini goes in the room where Aditya follows her to apologies on what he did.
Aditya says sorry to Malini where in turn Malini demands an explanation from him about why he is taking this much care of Imli.
Now it would be really interesting to see whether Aditya will convince Malini or not.
Stay tuned for more updates adn latest gossip of Imli serial.