Colors TV show Namak Ishq Ka (Namak Isk Ka) is up for new twist in the upcoming story when Yug fails his brother Rony's plan to use Chamcham (Kahani).
Till now we have seen that Chamcham entered in Iravati's house as a nurse and met Iravati's husband who is her father.
On the other hand, Yug's elder brother Rony who is a film producer likes Chamcham's beauty and wants to get her at any cost.
He then creates a drama to save Chamcham from goons. She gets happy when he offers her a role as a dancer in his upcoming film.
Chamcham is unaware of Rony's real dirty intentions behind so much kind towards her.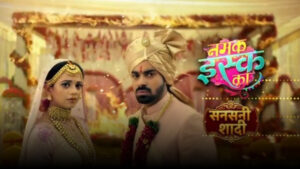 Yug marries Chamcham, Rony shocked
Later on in the storyline we will see that on Yug-Gunjan's marriage, he changes his decision and marry Chamcham.
The real reason behind Yug's this decision is actually to save Rony and his wife Rupa's happy married life.
On the other side, Gunjan's mother Iravati and Rony gets huge shock seeing Yug's this act.
Now it would be really interesting to see whether Yug will accept dancer Chamcham as his wife or not.
Stay tuned with us for all the latest gossip and updates of Namak Ishq Ka.