In the upcoming story of Imli serial we will see a high voltage drama where Anu decide to fork this alliance as Aditya choose his job over her daughter Malini.
Till now we have seen that Anu decided to perform Aditya-Malini's engagement at the place she had chosen.
Everybody reaches there to celebrate Aditya's engagement ceremony.
But unfortunately, Aditya gets an important call from his office and he leave the engagement hall.
Anu gets very angry as why Aditya gave priority to his job and not to Malini on this very special day.
Imli gets trapped, Aditya saves her
On the other hand, Imli is kidnapped by the goon from the road as a part of human trafficking.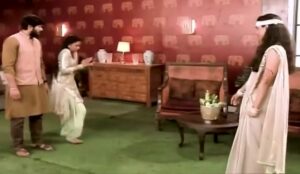 Here Aditya got a very important assignment on this trafficking where he agrees to cover this.
Later on, we will see luckily Aditya will reach to the place where Imli and others are captivated. He will free Imli from the goons.
But on the other side, Anu is very much angry on Aditya's this act. She makes a decision to fork this alliance saying this engagement is not important for Aditya.
Now it would be really interesting to see whether Aditya will reach engagement hall or he will have to face Anu's this decision.
Stay connected with us for all the latest updates and gossip of Imli serial.