Sun TV's culinary show MasterChef Tamil (MasterChef India-Tamil 2021) got a great start with the top 14 contestants (cooks).
In the final audition round, there were total 24 contestants who competed with each other to get the apron and reserve place in the top 14 of MasterChef Tamil.
At the end, we got the 14 cooks and rest 8 cooks got eliminated from the MasterChef kitchen.
Now from last week, we are noticing the Mystery Box Challenges, Immunity Challenge as well as the team cooking task.
Check out below for the MasterChef Tamil contestants list, and the name of the contestant who got eliminated today on 14th November 2021.
MasterChef Tamil Updates
On 14th November 2021, at the end of the Grand Finale, Devaki Vijayaraman was declared as the winner of Masterchef Tamil Season 1.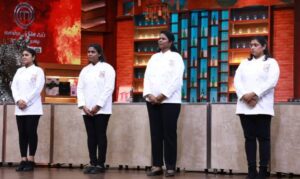 On 7th November 2021, we saw the last challenge of the Semi Finale between Manikandan and Vinny for the final spot in the Grand Finale.
On 6th November 2021, Nithya Franklyn and Devaki became 2nd and 3rd finalists of the MasterChef India Tamil.
MasterChef Tamil Elimination News
On 7th November 2021, Manikandan got eliminated while Vinny Shukla became the 4th finalist of MasterChef Tamil.
On 24th October 2021, Krithika won the Ticket to Finale of MasterChef Tamil.
On 17th October 2021, Devaki, Sumitra, Manikandan and Krithika faced the elimination challenge. From them, Sumitra got eliminated.
⇄ Scroll to see full table
Stay connected with us for all the latest updates and news about MasterChef Tamil 2021.