Star Plus's popular show Yeh Hai Chahatein is going to witness intense drama. The show is gearing up for many interesting twists and turns.
Ruhi tells Preesha that she wants to have Ice cream after they have decided to recreate the memories for Preesha.
Ruhi asks Rudraksh aka Prem Mali to come with them but he denies to which Preesha forces him and they leave. Digvijay watches on.
As Rudraksh aka Prem along with Preesha and the Kids reach the ice cream parlour, Prem intentionally applies ice cream on her nose which gives Preesha the glimpse of the past.
Preesha shares her deja vu type moment with Ruhi to which they ask her not to think much and Rudraksh rubs his cheek with hers.
With this Rudraksh's fake beard loosens out because of which Ruhi asks him to lift her up and fixes his beard. She asks him to be careful.
Meanwhile Digvijay shares the incident with Armaan who concludes that Ruhi has no memory loss and she is pretending to have one. He further concludes that Prem is involved with Rudraksh.
Armaan follows Prem
On the other hand Ruhi shares her incident where she has asked Preesha to sing as she pees where she sung terribly to which Rudraksh had to come and sing for her to enjoy.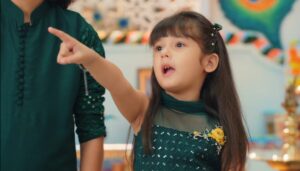 On the flip side, Raj is dancing with Pihu on ishq wala love which he is not able to do. Vidyut offers to help and he dances with her. Pihu finds Raj gone and goes in search of him.
Ruhi pretends to cry which makes Preesha worried and as Prem tells her how Ruhi won't pee until someone sings song for her. She asks Prem sing to which Prem sings terribly, he stops and asks Preesha to sing.
When she sings, Ruhi asks her to stop just like she did in the past in order for her to remember it.
In the Upcoming Episodes Rudraksh will meet Vidyut as Prem Mali while Armaan who thinks that he is helping Rudraksh, follows him. Armaan clicks the pictures of them together.
Later Armaan shows the pictures to Preesha and questions Prem Mali about it putting him in trouble.
What more drama is awaiting for the audience?
Stay Tuned to Serialupdates.me for the Latest Updates.