Star Plus's top show Banni Chow Home Delivery is gearing up for intense drama. The show is going to witness interesting twists and turns.
Yuvan gets scared looking at himself in the mirror as he remember his Mother's words about face turning weird after a promise is broken.
Meanwhile on the other hand Banni decides to clean the kalash as it is unclean but Devraj stops her telling her that her Mehendi is more important than that.
This makes Banni worry about her Delivery when Veer and Alpana talk about how Banni is after the Property. They decide to humiliate Banni.
Banni takes stand for herself and tells them that one speaks such words, only when they try to stop the another from moving forward in their life.
On the flip side Yuvan sees that his Mother's photo is missing and gets hysterical about it but as the lights go on and off, he gets scared. Vinni and Charmi get elated seeing their plan work.
Yuvan Pisses in his Pants
Manini advices Banni about the Relationship and how there are many ups and downs in it which they have to tackle with their togetherness.
When questioned whether she really loves Yuvan soo much to the point that she forgives him for his huge mistakes to which she tells her that one only Marry when they love someone. She then claims all his mistakes to be hers.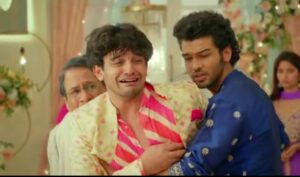 Yuvan who comes downstairs tells Devraj about the happenings in the room and reminds about the promise to which Devraj asks him to never talk about it. Yuvraj pisses in his pants.
Manini calls Shankar but Alpana stops and asks Banni to clean it with Viraj supporting it. When Yuvan tries to stop Banni from cleaning, she convinces him saying he would do the same for her and he agrees.
As Viraj comments about her situation, Banni tells him that he can only be able to see the dirt while she can pretty much see the fear in his Heart.
In the Upcoming Episodes Banni is worried about the deliveries to be done while Alpana is determined not to let the delivery happen. She stops the servants from delivering it.
Later Banni sees that all her Deliveries are pending while Determined Manini thinks that Banni will be humiliated in the Mooh Dikhayi Rasam.
What more drama is awaiting the audience?
Stay Tuned to Serialupdates.me for the Latest Updates..