Star Plus most popular serial Yeh Hai Chahatein is gearing up for some intense drama and interesting twists in the upcoming story.
Vidyut tells Sharda that Rudraksh has asked for Lord Krishna Idol to which she tells him that she will give by herself. She then tells him that she is missing the Kids.
Vidyut asks Raj as to why did he leave from the practice all of a sudden to which he tells him that it is completely because of him.
As he is questioned, Raj tells him that he hurt Pihu before but now he wants to practice with her and this change is unbelievable.
Vidyut tells him that he has realised what he has done was completely wrong and he is regretting it. He tells him that he wants him to win in the competition.
On the other side Armaan question Prem as to what he was doing with Vidyut after Prem denies knowing everyone named Rudraksh.
Prem tells him that he was new there and he didn't know anything about it hence he was asking him for the route after Armaan shows him the picture.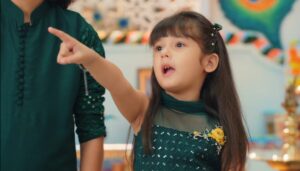 Sharda visits Rudraksh
Prem tells him that he may be poor but he isn't a cheat. He tells them that he will leave while Preesha stops him.
She apologises for doubting him at first place because of her anger and stops him from leaving.
Rudraksh and Kids take a breathe at the close attack. They decide to be more careful this time.
Armaan tells Digvijay that Rudraksh is involved with Prem and is determined not to let him snatch Preesha from him.
Sharda comes there and tells Preesha that she wants to give the Books to Ruhi and sweets too to which Preesha takes her with her. Sharda gives Rudraksh the Lord Shree Krishna Idol and leaves from there.
Rudraksh decides to keep it in Armaan's house when Armaan who left to office comes back to take the file and sees him. He decides to expose him and catch him red handed.
Kanchan tells Armaan that the Lord Shree Krishna Idol is missing to which Armaan says that Prem has stolen it shocking everyone.
What more drama is awaiting the audience?
Stay Tuned to Serialupdates.me..