Star Plus most popular serial Banni Chow Home Delivery is gearing up for some intense drama and interesting twists in the upcoming story.
Yuvraj gets ready and comes down stairs while Banni looks at him with a smile on her face admiring him.
As Viraj mocks him, Banni tells him that he is looking good and asks him to have kaala teeka for him to be safe while he yet again apologises to her for his mistake.
Banni tells him that they should move on from him. She asks servants to deliver the food on time while Alpana goes to servants and warns them not to deliver her.
They tell her that Devraj has ordered but she threatens them that she will cut their salary.
Banni is getting ready for Muh Dikhai Rasam when Manini comes there with Vandana's jewellery and saree. She asks her to wear her.
But Banni remember the accusations from Hemant who said that she is Marrying Yuvan for Money and denies to accept it.
Manini consoles Banni
Banni makes it clear that she wants to buy saree from her own money as she don't want to make other's words about her Marrying Yuvan for Money too.
Hemant comes there and mocks her because of which Manini supports her. He asks her whether she forgot how Banni tricked them and Married Yuvan for her.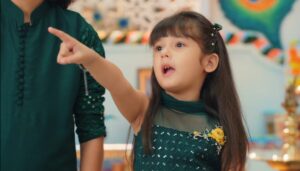 Manini tells him that Banni wouldn't deny to accept such expensive things if she really Married him for Money.
Hemant tells her that she has come into her trap like everyone else and leaves from there. Manini consoles Banni and tells her that Hemant will accept her soon while Banni grows suspicious of her overly good attitude and looks at her.
Later Banni sees that her Tiffins are not delivered and panics when Yuvan comes there. He tells her not to worry and says that he has invited whole basti so that they don't stay hungry.
Manini thinks that he should have called the whole city as soon Banni is going to have the unique Muh Dikhai Rasam.
During Muh Dikhai, Yuvan comes to Banni with the Jewellery and tells her that she has made his Mother upset.
He makes her wear the Jewellery and tells her that she broke the promise of his Mother and wishes that he would have never Married her.
What more drama is awaiting?
Stay Tuned to Serialupdates.Me for the Latest Updates.