Star Plus's serial Imli is up for new twist in the upcoming story when Anu creates a huge drama post seeing her daughter Malini's make-up.
So far we have seen that Aditya got married to Malini and Imlie also supported it with heavy heart.
Later, we will see Malini insists Imli to do her make-up as the makeup artist was not available.
Imli does Malini's makeover in a traditional style of Pagdandiya.
Here, Aditya also got shocked seeing his wife in this old look and requests her to go to parlour.
Anu creates drama in Tripathi house
But Imli and Malani somehow manages the situation and convinces Aditya.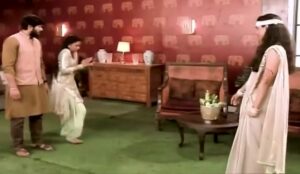 Later on, Aditya's in-laws marks entry in the house where Anu gets completely stunned seeing Malini's makeup.
Anu tries to create a scene by addressing this as an outdated style which doesn't suits her daughter.
Here, Imli puts her point and tries to convince Anu and others that the look of newly bride doesn't matters, what matters is the newly wed couples love.
Now it would be really interesting to see whether Anu will keep silence post hearing Imli's answer or she will create more drama.
Stay connected with us for all the latest gossip and updates of Imli serial.