Star Plus popular serial Ghum Hai Kisikey Pyaar Mein GHKKPM is gearing up for some intense drama and interesting twists in the upcoming story.
Ashwini and Ninad plans to send Virat and Sai to shopping to bring them close.
Bhavani opposes, she says she will not give Sai any special treatment.
But Ninad and Ashwini somehow makes Bhavani agree to their plan and sends Virat and Sai to shopping with Ashwini.
While Pakhi is not liking the idea of Sai and Virat spending time together.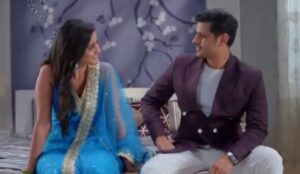 Ninad-Ashwini's plan works
Ashwini according to her plan leaves Virat and Sai alone in the kids section in the Mall when the duo meets a small boy.
Virat take him in his lap amd Sai enjoys happy moments with the child. For the first time Sai experiences motherly affection.
Sai becomes emotional and hugs Virat.
Is Ninad and Ashwini's plan working?
Stay tuned for more updates on GHKKPM.