Star Plus most popular serial Anupama is gearing up for some intense drama and interesting twists in the upcoming story.
Anuj and Anupamaa's Haldi ceremony is done while they all get ready for the wedding.
Pakhi says she will do Anupama 's hairstyle and Kinjal says she will do the makeup.
Anupamaa says she is too lucky that her children are getting her ready for her wedding.
Meanwhile Kinjal gets pain in her stomach Anupamaa and Pakhi gets scared.
Later Anupamaa says it's the baby inside her is kicking. Kinjal is extremely overwhelmed by experiencing the first kick of the baby.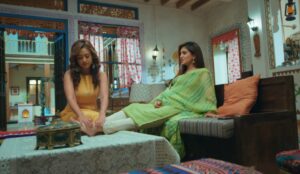 While Pakhi gets emotional seeing how mother take care of their baby even before they come into this world.
Kinjal's big demand
Kinjal says she will be needing Anupamaa by her side untill the baby come into the world.
She adds that she want the baby to first go on Anupamaa's lap as it will make her like her.
Kinjal wants her baby to be exactly like Anupamaa and this makes Anupamaa emotional.
What more drama is waiting ahead?
Stay tuned for more updates.