Star Plus most popular serial Anupama is gearing up for some intense drama and interesting twists in the upcoming story.
Finally doctor gave Bapuji permission to delay his operation by a couple of days.
Shahs are extremely happy and goes to the venue to celebrate Anuj and Anupamaa's Haldi and wedding.
Vanraj and Baa attends the wedding just for the sake of Bapuji's happiness.
Later in the haldi ceremony, Anuj and Anupama puts haldi on eachother first.
While putting haldi Anuj makes some promises to Anupamaa and says her that she will never end up in the kitchen for rest of her life.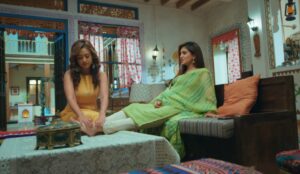 Anupamaa gets emotional
Anuj says that the society should normalise women taking break from the kitchen.
He says a women is always expected to be in the kitchen on everyday of the year .
Anuj says that this will not happen with Anupamaa.
Anupamaa gets emotional and says she is blessed to have Anuj in her life
What more drama is waiting ahead?.
Stay tuned for more updates.