Star Plus most popular serial Anupama is gearing up for some intense drama and interesting twists in the upcoming story.
Kavya organises a grand New Year party to win back Vanraj.
She invites everyone through phone including Anuj and Malvika.
Later she goes to invite Nandini when she becomes emotional and cries her heart out to her.
Nandini tries to calm her when she warns Nandini to marry Samar.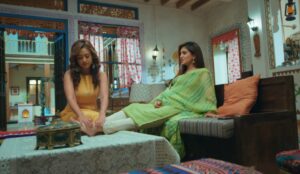 Kavya shows concern to Nandini
Kavya tell Nandini how toxic Shah family is and how all the marriages are at stake.
She gives includes Kinjal Paritosh, Baa and Bapuji in her examples.
Kavya tells Nandini to get separated after marriage or else not to marry Samar.
Samar hears everything and fumes in anger.
Stay tuned for more updates on Anupama.