Star Plus popular daily soap Anupama is showcasing some interesting twists and drama in its track.
Anupama and Vanraj fires Geeta. Vanraj asks Kavya to do the works that Anupama use to do for him.
Vanraj asks Kavya to cook him food, make him tea and do his laundry. Comparison with Anupamaa pisses Kavya off.
Kavya is now determined to manage all the household chores and office and impress Vanraj. She also plans to take revenge from Anupamaa.
Finally a occasion is here. Baa along with Anupamaa and Kinjal prepares for Vatsavitri. While Kavya returns from office and decides to create some drama.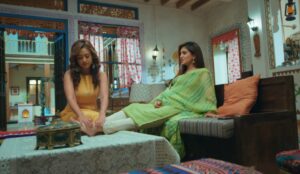 Anupama's befitting reply Kavya shocked
Kavya asks Anupamaa to visit her mother this Vatsavitri as she would be jealous and feel upset seeing Kavya do all the rituals with Vanraj.
Anupamaa replies that at any cost she will never become Kavya. She would never do the things to Kavya that she did to her.
What more twist is waiting ahead?
It is going to be super interesting to watch the upcoming episodes of Anupama.
Stay tuned for more updates.