Star Plus popular daily soap Anupama is gearing up for some intense melo drama and twists in its track.
Anupamaa has recovered and returned home. The Shahs are taking good care of her.
Kavya and Vanraj had a argument so to Kavya thinks to impress Vanraj with her cooking skills. She plans to cook good food for Vanraj to sort out their differences.
Kavya goes to pluck some vegetables while on her return she sees Kinjal taking the mixer from the her kitchen.
Kavya stops Kinjal and ask her why is she taking away Kavya's mixer. On return Kinjal answers that its Anupama's mixer not hers.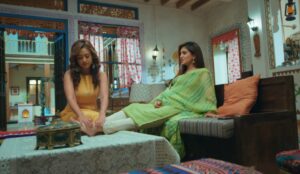 Kavya-Kinjal fight.
Kinjal's reply triggers Kavya. She tells Kinjal to behave as she is her ner mother-in-law. Later the dou is seen fighting for the mixer.
Rakhi Dave is surprised to see her daughter's catfight and rushes to calm both of them down. While Kinjal leaves with the mixer. Rakhi warns Kavya not to mess with her daughter.
Will Kavya be successful in throwing the Shahs out of the house?
The upcoming episodes of Anupama are going to be super interesting to watch.
Stsy tuned for more updates.