Star Plus popular daily soap Anupamaa is serving it's audience with high voltage intense drama and interesting twists in its latest track.
The day has finally arrived when Kavya and Vanraj are getting tied in a knot. Kavya is very excited.
But Vanraj goes missing minutes before his marriage. Kavya is mad. She searches Vanraj everywhere she could and blames Baa and other Shah family members.
Kavya threatens Anupama, who went to meet a doctor with Advait that if Anupamaa does not reach the resort, Kavya will file a FIR against the Shah family and Vanraj.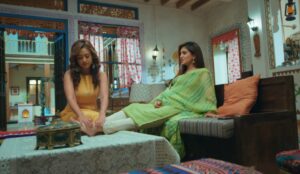 Anupama is irked. Meanwhile while Vanraj returns knowing that in his absence Kavya would make chaos.
Anupamaa's sacrifice
While Kavya and Vanraj get married, Anupamaa goes inside her room and comes up with a gift.
Anupama gives her Streedhan to Kavya that she recieved after being the daughter-in-law in Shah family. Baa objects but Anupamaa says it's the right of the daughter-in-law of Shah family.
What more twists are waiting ahead for the audience?
The upcoming episodes of Anupama are going to be full of twists and turns.
Stay tuned for more updates.