Star Plus most popular serial Anupama is gearing up for some intense drama and interesting twists in the upcoming story.
Baa is very unsatisfied with Anuj and Anupamaa's friendship and thus created a scene in the Navaratri celebration.
But Anupamaa decided not to let all this affect her and continues her partnership and friendship with Anuj.
Meanwhile Kavya joins Anuj's company band create a blunder on the first day and gets fired.
Vanraj tries to lash out at Anupamaa but unfortunately Anupamaa had put cotton balls on her ears so couldn't hear the anger.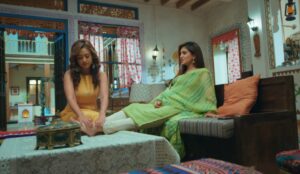 This time Anupamaa went to a meeting outside Ahmedabad and gets stuck due to rain.
Anupamaa's big decision
Due to heavy rain Anupamaa reached home quite late and couldn't inform as her phone's battery was dead.
When she returns Baa and Vanraj lashes out at her, insults her and taunts her.
Thus Anupamaa decides to leave the Shah mansion.
Will Bapuji be able to stop Anupama from leaving? Will Baa regret after Anupamaa's exit?
Stay tuned for more updates.