Star Plus most popular serial Anupama is gearing up for some intense drama and interesting twists in the upcoming story.
Kavya couldn't save her job and got fired on the first day at her work.
Thus Kavya and Kavya holds grudge against Anupamaa and Anuj.
When Anupamaa returns home Vanraj lashes out at her and tries to humiliate her.
But unfortunately Anupamaa couldn't hear it all as she had already put cotton in her ears.
Anupamaa asks Vanraj to send her a voice note everyday to show his anger.
She also tells Vanraj that the next morning Anuj is coming to pick her up and she will pridefully go with him in his car.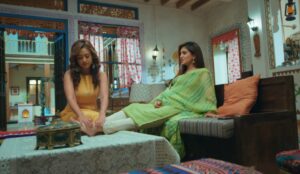 Vanraj's ego gets hurt
Naxt morning Anuj waits for Anupamaa infront of the Shah mansion while Vanraj faces him.
Anupamaa gets out of the house while Vanraj decides not to let her go and hold the gate tightly so that she cannot open it.
But smart Anupamaa gets up on the wall and crosses it and gets into Anuj's car, hurting Vanraj's ego.
What will Vanraj do against Anupama to teach her a lesson?
Stay tuned for more updates