Star Plus most popular serial Anupama is gearing up for some intense drama and interesting twists in the upcoming story.
Vanraj created a scene at the Bhoomi Pujan, ruining Anupamaa's special day.
While Anuj is also pissed with Vanraj's daily dramas and want peace for Anupamaa.
After the Puja at the Shah mansion Anupamaa makes it clear to Vanraj that she don't want his interference in her matters.
She says she moved on in her life and wants peace.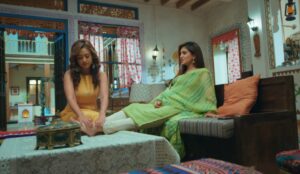 Anupamaa then challenges Vanraj that she will become a successful business woman and be independent.
Devika turns cupid foe Anuj-Anupamaa
Anupamaa, Anuj and Devika are discussing their business strategy when Devika intentionally puts Anupamaa's hand in Anuj's hand.
Anuj skips a heartbeat by Anupamaa's touch and blushes.
The upcoming episodes of Anupama are going to be super interesting to watch.
Stay tuned for more updates.