Star Plus popular daily soap Anupamaa is ready to witness some high voltage intense drama and twists.
Anupama has already shifted to another cottage and Kavya is trying hard to coe up with the Shah family.
Anupamaa is very excited for Samar and Nandini's engagement. She invited Dr. Advait specially to be present in the function.
But the scenes in the Shah family doesn't seems good, Baa is not willing to attend the engagement after having a hot talk between the family members.
On the other hand Nandini is in dilemma. She wants to reveal her past to the family. Samar and Nandini then decides to to reveal Nandini past to Anupamaa before the engagement.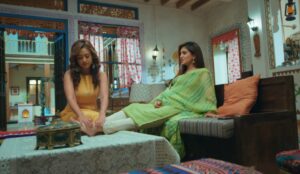 Baa's reaction to Nandini's past
Nandini tells Anupama about her infertility before engagement. And asks if she still wants her to be her daughter-in-law.
Anupama motivates Nandini and supports her. While Baa overheard the conversation between Anupama and Nandini.
Baa creates a scene in the engagement for hiding the truth from the other family members.
Will Baa call off Samar and Nandini's engagement?
It is going to be super interesting to watch the upcoming episodes of Anupama.
Stay tuned for more updates.