Star Plus popular daily soap Anupamaa is witnessing high voltage intense drama and interesting twists in its plot.
Kavya has no boundaries of her happiness as finally after waiting for years she is going to be Vanraj's bride.
Where as Rakhi Dave arrives to the resort to meet Shah family and to spice up the surrounding near.
Vanraj confesses to Anupama that he no more wants to marry Kavya. And Anupamaa taunts him.
On the other hand Kavya wants Baa and Dolly to perform the pre-wedding rituals. Uninterested Baa along with Dolly and children walks out.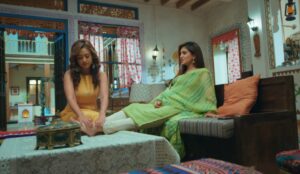 Kavya is disappointed and performs her own marriage rituals herself.
Anupamaa's warning cum reply to Kavya
Next day Kavya asks Anupama to apply her mehendi and adds that she wants to write only 'V' specifically.
Anupamaa pranks Kavya and say she won't write only 'V' but Shrimati Kavya Ben Vanraj Shah Ahmedabadi. This will shock Kavya and she refuses to apply mehendi from Anupama.
Anupama adds that she won't be a doormat anymore. So that people will take her for granted.
It will be extremely exciting to watch the upcoming episodes of Anupama.
Stay tuned for more updates.