Star Plus most popular daily soap Anupama is gearing up for some intense drama and interesting twists in its track.
Vanraj distributes pamphlets to promote his cafe on the streets. Anupamaa also joins him.
Meanwhile Rakhi Dave and Paritosh with their clients were passing by and witness this. Rakhi feels ashamed to introduce them as hers daughter's in-laws.
Later Rakhi visits Shah mansion and creates a scene. She tells how Anupamaa and Vanraj are ruining her reputation.
Rakhi tags Vanraj and Bapuji as beggers as they were asking people to visit their cafe. Kavya also supports Rakhi and agrees with her.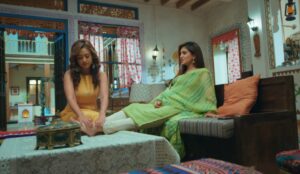 Anupama's befitting reply
Later Rakhi questions on Vanraj and Anupamaa's friendship and on Anupama's character. Kavya also expressed her issues with Anupamaa stay in Shah mansion.
Anupamaa says if Kavya is having issues with Anupamaa then she and Vanraj can leave Shah mansion and her dance academy.
Vanraj stand there in shock.
The upcoming episodes of Anupama are going to be super interesting to watch.
Stay tuned for more updates.