Star Plus popular daily soap Anupama is showcasing some intense drama and interesting twists in its track.
Shah family arranges for Vatsavitri. Samar and Pakhi helps Anupamaa in decorating the plates.
Kavya keeps the fast only to make Anupamaa feel jealous, she wants Anupamaa to be alone in the occasion.
Kavya asks Vanraj to keep fast for her but Vanraj clearly denies. This make Kavya irritated.
Later during the puja Kavya lashes at Anupamaa for correcting her as she was doing the wrong process.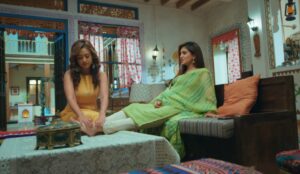 Anupamaa completes the puja instead of Kavya
While taking rounds of the tree, Kavya slips and fall. Anupamaa rushes and saves Kavya and the thread which is for the long life of Vanraj.
Everyone praises Anupamaa for the selfless act and Kavya gets irked. Later Anupamaa performs the rest of the ritual of Vatsavitri puja.
What more twists are waiting ahead?
It is going to be super interesting to watch the upcoming episodes of Anupama.
Stay tuned for more updates.