Gemini TV's culinary show MasterChef Telugu 2021 reached it's grand finale week with top 5 finalists for this 1st season.
In this season we had total 14 cooks and now from them, we have top 5 cooks who will compete in the finale.
On 26 November 2021, at the grand finale of MasterChef Telugu 2021, at the end of the challenge, Anupama and Abdul Khader got eliminated.
While on 27 November 2021, the final day, the top 3 finalists (Anusha, Kamal and Tejasvi) made their last dish in MasterChef kitchen. It was followed by the winner announcement
The winner of MasterChef India Telugu Season 1 will receive MasterChef Coat 👩‍🍳, Trophy 🏆, and a prize money of Rs. 25 Lakhs 💵.
MasterChef Telugu Finalists
⇄ Scroll to see full table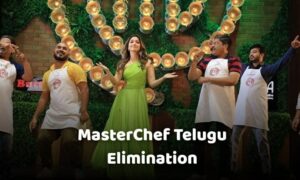 MasterChef Telugu Winner Details
The winner of MasterChef Telugu 2021 is Krishna Tejasvi. She got MasterChef Coat, Trophy and 25 lacs.
Winner Name: Tejasvi 🏆
1st Runner-up Name: GD Anusha
2nd Runner-up Name: Kamal
MasterChef Telugu Winner Prediction
As per our prediction, we might see a tough competition between Dr. Anusha and Kamal for this title. Let's see who becomes the winner of MasterChef Telugu Season 1.
Stay connected with us for all the latest updates and news about MasterChef India Telugu 2021.