Star Plus popular daily soap Anupama is gearing up for some high voltage intense drama and interesting twists in its plot.
Anupamaa now takes stand for herself. Unlike the old Anupamaa this one does not bother to listen to unnecessary chaos of Vanraj and Kavya.
Vanraj and Kavya gets late for the breakfast. When the arrive they see the table is empty. Kavya asks for breakfast when Baa tells her Anupama will not make dinner for her.
Kavya and Vanraj fumes in anger. Baa tells Kavya to make her and Vanraj's food as Anupamaa will only cook for her family.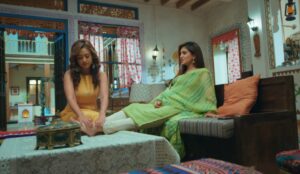 Vanraj and Kavya are left with no option. Vanraj ask Kavya to break sandwich. They newly wed couple have bread and butter and leave for their work.
Lesson for Kavya.
Kavya now understands the responsibility of being a wife. With the stubborn nature, its difficult for Kavya to fit in Shah family.
Will Shah Parivaar accept Kavya?
The upcoming episodes of Anupama are going to be full of twists.
Stay tuned for more updates.