Star Plus most popular daily soap Anupama is showcasing some intense drama and interesting twists in its latest track.
Vanraj and Kavya keeps on blaming Anupamaa for taking money from Rakhi Dave and lowering their self respect.
Meanwhile Vanraj gets an offer from Anuj Kapadia, who wants to buy the dance academy and cafe to make five star hotels at the price of 5 crores.
Kavya and Vanraj gets extremely happy and excited to crack the deal. Vanraj ask Bapuji who half heartedly give permission.
Vanraj keeps Anupamaa out of it. Kavya starts to plan what will she do with the money.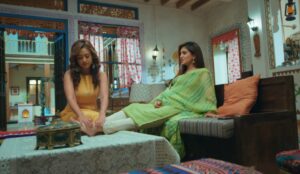 Rakhi-Kavya in heated conversation
Meanwhile Rakhi visits Shah mansion. Now Kavya tries to handle Rakhi in her way.
Though Vanraj and Kavya didn't get the deal but Kavya slams 20 lakhs cheque on Rakhi's face and asks her to leave with her money.
Rakhi fumes in anger and tells if the cheque bounces they should get ready for the consequences.
What more drama is waiting ahead?
The upcoming episodes of Anupama are going to be super interesting to watch.
Stay tuned for more updates.